The flight from Southend Airport to Amsterdam Schiphol is surprisingly quick. Barely have you got comfortable in the seat with your book open, and easyjet have given up trying to sell you bacon rolls, and you're about to land again.
We stayed in an Airbnb place in the Emmastraat area of Amsterdam, a 4th floor single room flat alongside a canal and a couple of very nice bars, the city centre being a 20 min tram ride, or a 45 min stroll though Vondlepark, away.
The Rijksmuseum was still closed when we visited, and the Van Gogh Museum had relocated the paintings to the Hermitage instead. There is a 2-4h queue for tickets at the Hermitage in the day time, but you can buy tickets at the at the Van Gogh Museum with next to no queue and walk right in to the exhibition at the Hermitage. It's well worth the 15 euros or so for entry.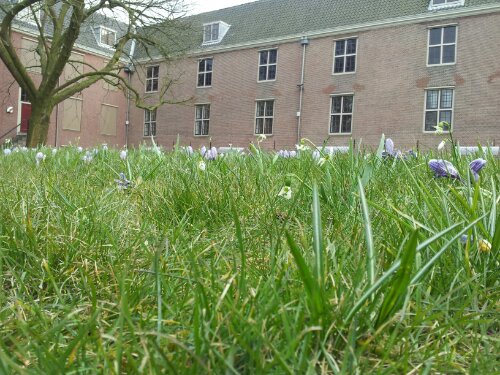 The flower market is a bit subdued at the moment because of the cold. Blubs and seeds are available to buy, but there were very few fresh flowers.
The public library is excellent, really really excellent. It has a very nice restaurant on the top floor too. Good freshly cooked food and wonderful cakes. They can make a half-decent cup of Tea too.

Also worth seeing at the botanic gardens, a well welcome warm stop on a cold snowy day and the Van Loon canal house museum – the coach house in the garden makes for a very impressive shed.
Three days wasn't enough time to really see as much as we wanted, will definitely go back when the weather improves and the other museums are open again.