I'm getting back into astronomy after a very long hiatus. I really want to do some astrophotography, something I didn't really achieve before.
My previous attempts at imaging the sky though a telescope were with a self-guided Az-El mount crap-scope and a self-made 110 film camera. The results were underwhelming to say the least.
I've now got a much nicer telescope – a Skywatcher 102 mm Acromat Refractor on a decent guiding mount – an EQ5 Pro. For a camera I'm using either a Nikon D50 with the IR and Beyer filters removed, or a Nikon D7000 unmodified.
I took a couple of evenings to familiarize myself with the telescope and mount and to get a feel for the night sky again. This Friday was a good clear night, so I thought I'd attach a camera, point the scope at Andromeda and see what happened.
I aimed to collect 150 x 30 sec exposures at ISO 1600. I was relying on the built-in intervalometer in the camera to control the capture, this was my first mistake. I'd not used this feature of the camera before, and I managed to set it up incorrectly. I only managed to collect half the number of images I thought. I also forgot to set the ISO correctly.
I'm also pretty sure the focus wasn't spot on. It's hard to see the camera live view when it's upside down.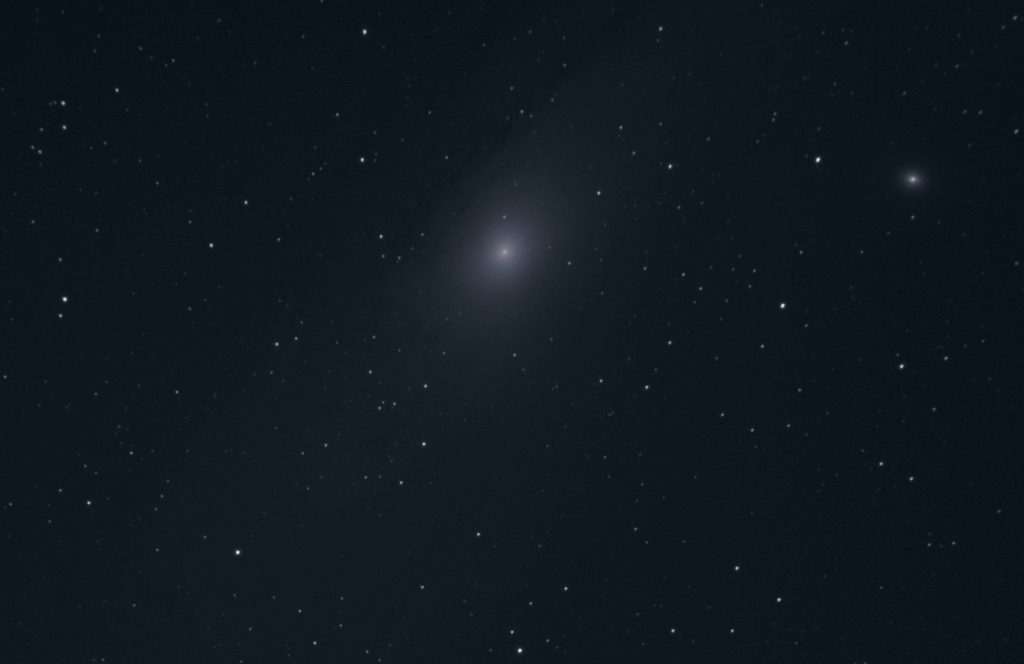 The resulting image isn't great, but it does hint at there being some structure in the fuzzy glow. Ok, some of that is probably JPEG artifacts in the version I've embedded here, there's probably also some banding from the processing.
Things to do for next time:
Check the camera settings
Check the camera settings
Learn to use the intervalometer
Focus the scope on a object I can see in the live view more easily.
(probably) Use a computer to control the camera so I can sit in the warm with a cup of Tea.